SUMMARY
Design and dimensioning of compression plates for seamers used in round cans.
PRESENTATION
The lower plates of the seaming stations play a very important role during the seaming operation. We have already discussed this issue in several jobs such as:
– Stability of the compression plate pressure in a seamer
Now we will focus on the shape of the profile of these dishes and the dimensions that it should have.
The compression plates used in the metal industry are different from those used by the filling and canning, because while in the first case the cans are supported by their flange, in the second they do so by seaming the lid previously assembled by the metalgrapher. The importance of its design is greater in the first situation, since in the second one a smooth plate with a simple cente central centering of the lid can be enough.
When it comes to empty cans, the metalworker has to protect the lower flange of the body so that it does not suffer damages, and can later fulfill its correct function during the seaming of the packer. Therefore, the plate in this alternative must be well designed and sized. The following points refer only to the dishes used by the metal industries.
DESIGN
These dishes are usually designed in two pieces. A disc-shaped central, on which the flange of the can body rests and which adapts to its profile, and another in ring with an internal step, which serves as a stop to the same flange and as an aligner of the can in its proper position.
In the drawing No. 1, the profile section of a compression plate of this type for metal is presented. As seen in this figure, the same type of plate can be used for straight and also for notched cans – that is to say with reduction of the diameter of the mouth – clear is adjusted in each case to the dimensions of the end of the can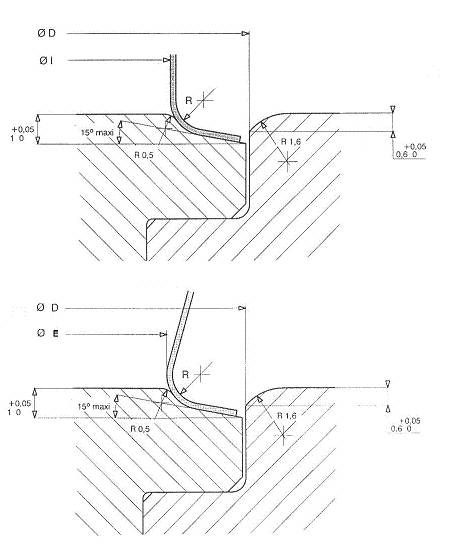 Drawing nº 1: Section of compression plate in two pieces, for straight or notched cans
In both you can see how the body flange fits perfectly to the profile of the plate.
There are other versions of plates made in one piece, or in which the radius of the 1.6 mm ring is replaced by a chafan.
They must be constructed of tool steel treated with high hardness. In all types, the surface finish must be taken care of, which must be polished, so as not to mistreat the inner protection varnish of the flange.
DIMENSIONS
The usual dimensions for a compression plate installed in an empty can seamer have been shown in the following table.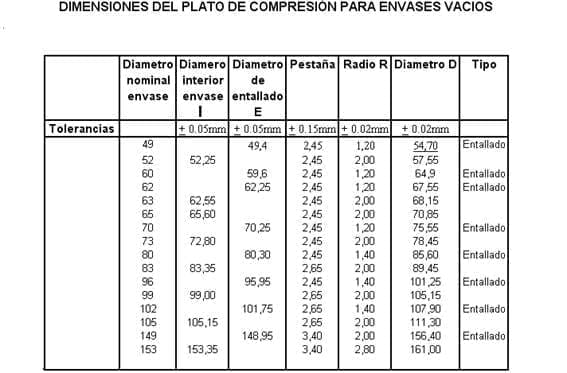 The measurements and their designation refer to drawing no. 1.
Keep in mind that they are linked to the type of closure used, since the size of the tab depends on it. The reflected measurements refer to closures type OI or I, except for the diameters 149 and 153 which is a type IV. To see more information about the tab we recommend to see the work: