If you want to read "VARNISHES" . – 1st part" click here
PART 2: 
VARNISH CHARACTERISTICS

 

The data reflected in this table should be taken in general terms since each varnish has specific characteristics

 
 
 
 
 
 
 
Kind
Drying
Flexibility
Y
accession
Resistance
to the sulfuration
Resistance
chemistry
Use
Applications
Oleoresinins "R"
205ºC/12′
Good
Bad
Resistant
to acids
Varnishes
interiors
Acid fruits
Vegetables
Oleoresinsins "C"
205ºC/12′
Good
Good
Does not resist
to acids
Varnishes
interiors
Rich foods
in proteins
Phenolics
200ºC/15′
Good
Very good
Good
Finished varnish
B. interior
Meats and
fish
Epoxy-phenolics
200ºC/15′
Good
Regular
Good
B. interior
B. hook
Rich foods
in proteins
Epoxy-phenolic + Al
200ºC/15′
Good
Very good
Good
B. interior
Rich foods
in proteins
Epoxy-phenolic + OZn
200ºC/15′
Good
Good
Not fit
for acids
B. interior
Rich foods
in proteins
Epoxy-amines
195ºC/12′
Good
Regular
Good
B. hook
B. outside
Decor
Epoxi-ester
180ºC/12′
Good
Bad
Regular
B. finished
B. outside
Decor
Epoxi-modified
190ºC/15
Good
Good
Good
B. white inter
B. hook
B. outside
Aggressive products
Decor
Vinyl
180ºC/10′
Very good
Bad
RegularB. interior
White enamel
B. hook
B. interior
White enamel
B. hook
Drinks
Decor
Acrylics
190ºC/15′
Very good
Very good pigmented
Very good
White enamel
B. finished
Vegetables
Vegetables
little pigment.
Decor
Polyester
200ºC12′
Variable
Regular
Good
B. white inter
B. interior
B. hook
White enamel
Env. embut
and tapas in 2 passes
Drinks
Decor
Organosols
195ºC/15′
Very good
Good
Good
B. white inter
B. interior
Easy tops
opening
Tapas
Env, embut.
 
 
 
 
 
 
 
FILM WEIGHT.
The load or weight of dry film is the amount of dry extract remaining on the metal after applying the wet and baked varnish. It is measured in g / m2 (or mg / pg2)
Orientatively it can have the following values:
Interior systems:
– Varnishes in general Between 5 to 7 g / m2
– Varnishes + Al "6 to 9"
– Varnishes + OZn "7 to 10"
– White "9 to 15"
– Organosols "13 to 21"
External systems:
– Hooks Between 2 to 5 g / m2
– White enamels "14 to 17"
– Finishing varnishes "5 to 7"
VARNISH APPLICATION TECHNIQUES
There are three basic procedures for varnishes applied in liquid state:
Application on sheets on one side thereof by means of rolls
Application on both sides coils
Application by spray.
Roller sheets
It is the oldest and most extended varnish procedure. In it, each sheet of metal is passed through a pair of rollers, one of them – elastic – is impregnated with the varnish to be applied. The material of said roller is gelatin or synthetic rubber, not attackable by solvents. With the appropriate adjustments the thickness of the applied coating is controlled.
The set of devices that allow each sheet to be fed from one package, moved and passed through the applicator system, receives on the market the name of the coating machine. Afterwards, a continuous furnace is mounted, which dries the varnish, eliminating solvents and allowing the film of solid residues adhering to the sheet to reach the degree of polymerization and crosslinking suitable for its protective function.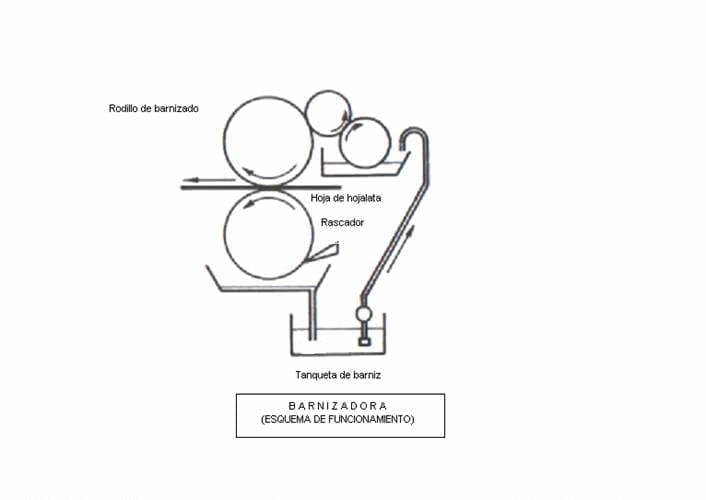 The baking conditions are variable according to the type of resin used. With a very general character, it can be around 200º C and a time of 12 minutes. The temperature will never be higher than 232º C – tin melting – to avoid the damaging effects of remelting it.

This technique of varnishing is the most common in the metal industry, since it is very flexible adapting to all the needs of varnishes as to the different parts of the container. Thus making the appropriate "reserves" on the elastic roller, can be varnished bodies for containers of three pieces, where the areas to be welded have to be free of varnish, sausages, lids, etc.
Coils
It is possible to varnish coils in a process similar to the previous one but continuously. It is much more complex and has more limitations, since it is not possible to make varnish reservations. Its use is limited to covers and bodies embedded in large runs.
Spray
There are some uses of containers that due to the aggressiveness or delicacy of the product – for example: carbonated drinks – require that its interior surface be totally free of exposed metal – pores, scratches, abrasions, etc. – and it is required to apply the varnish – usually in several layers of different type – once the finished container is in place. In these cases, spray application is used, using a fixed or mobile gun while the container is rotating at high speed. Subsequently the drying process is similar to the first technique. This application is typical of "two-piece" DWI containers.
Also a similar manner of spray coating can be applied to cover the side seam zone of the "three piece" container bodies. Said area has been reserved for varnish to make possible the welding and later it is necessary to protect it, resorting for it to the application by atomization and subsequent drying. This procedure was in force for a long time but nowadays it has been displaced by another powder coating application system.
These powder varnishes are of the thermoplastic or thermostable type, are applied by an electrostatic deposition technique on the surface to be protected and subsequently subjected to heat to cause their fusion. They have the advantage of reducing the emission of solvents to the atmosphere since 100% of them are solids.
PARAMETERS OF THE VARNISHES
The most important to control are the following:
Liquid varnish :
Viscosity
Specific weight
Type of resin
Solvent
Proof of assignment or migration
Dry applied varnish :
Load or weight of film
Curing control
Adherence
Porosity
Resistance to autoclave
Scratch resistance
Resistance to sulfuration
The description of these tests would make this work excessively long. As they are common to all varnishes and in a certain way suppose a separate chapter on them, it will be treated in an independent theme.