SUMMARY.-
With a didactic purpose, for those who do not have easy to know the manufacture of metal containers live, this work offers a series of drawings that describe the manufacturing sequences of the different types: 3 pieces, sausages, sausages-re-packaged ( DRD) and drawn and pressed sausages (DWI). From these will be simple to understand to explain the process to third parties.
1º.- SEQUENCE OF MANUFACTURE OF CANS 3 PIECES
The funds are manufactured separately, and later the bodies, to which the funds in the closing operation are added. The sequence is as follows: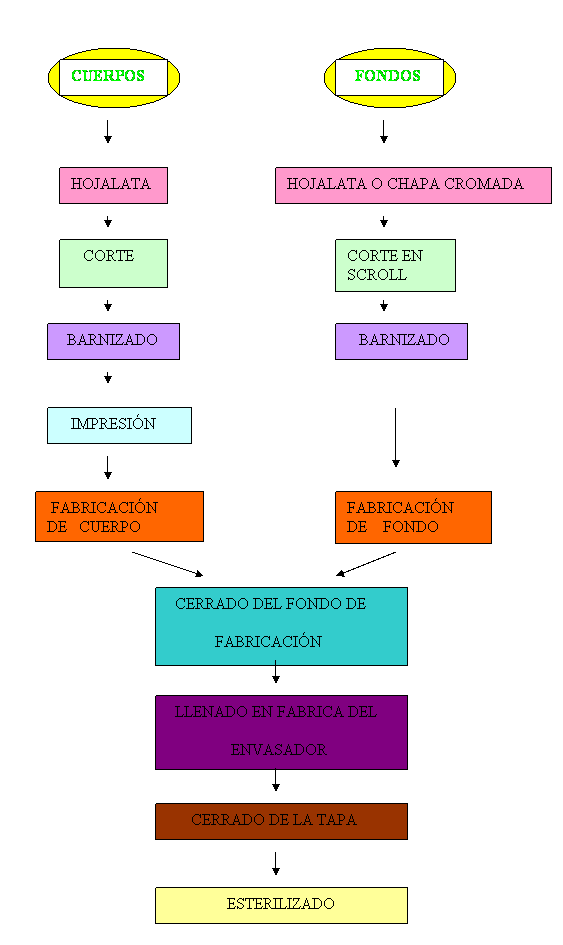 2º.- GENERAL DIAGRAM OF THE PROCESS OF MANUFACTURING PACKAGES 3 PIECES
In production on the part of the metalgrapher there are four stages:
–  Coil spools
– Preparation of the leaves (Varnished and lithographed)
– Manufacture of funds and covers
– Manufacture of the boat itself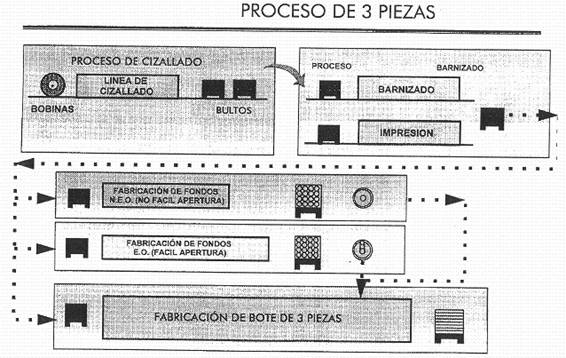 3º.- SHEARING PROCESS (CUTTING OF COILS)
It is carried out on an automatic line for cutting coils.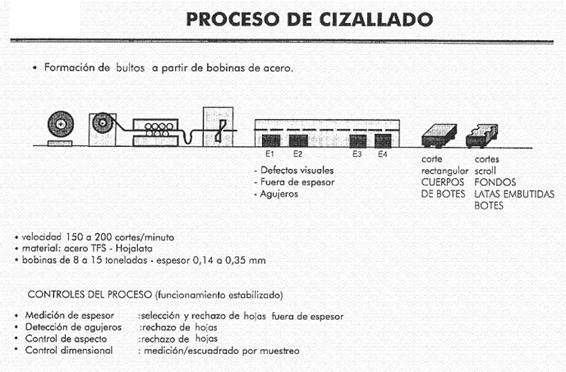 4th.- VARNISHING PROCESS
The varnish is applied on a roller coating machine and is stove in a horizontal continuous oven.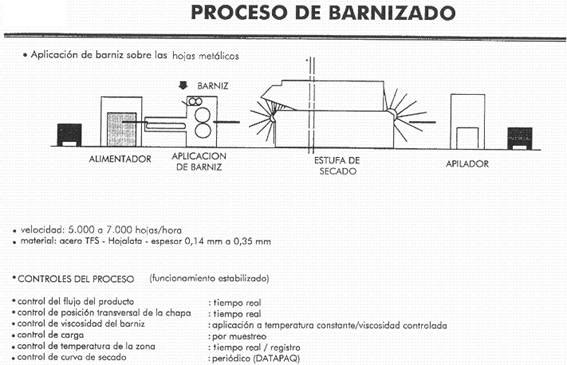 5º.- SEQUENCES OF MANUFACTURE OF THE FUNDS
The manufacture of the funds is carried out through the following stages: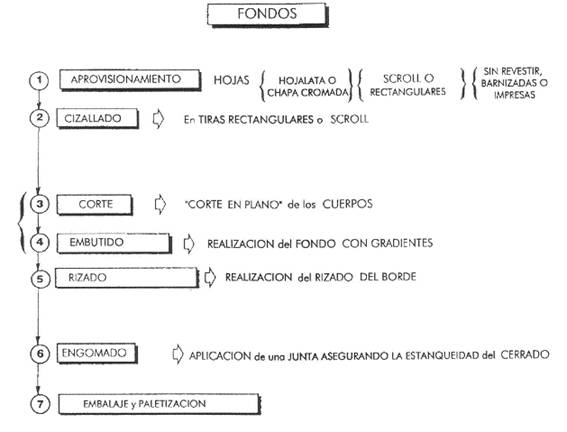 6.- PROCESS OF MANUFACTURING CLASSIC FUNDS
The traditional funds (not easy to open) require for its manufacture an installation that schematically consists of: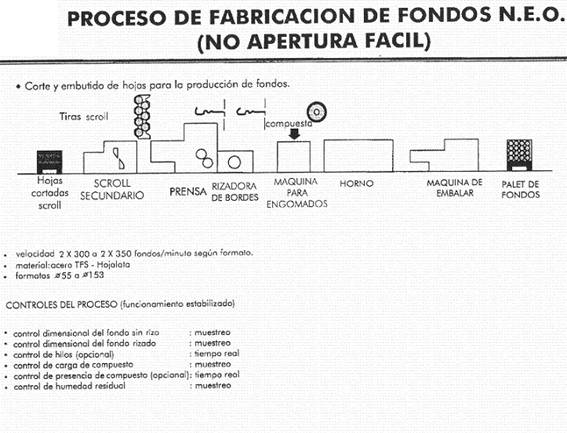 7º.- MANUFACTURING PROCESS OF THE EASY-OPENING CAPS
They present a first part equal to a classic background, followed by a special phase that transforms it into an easy opening. Your process is reflected in the following drawing: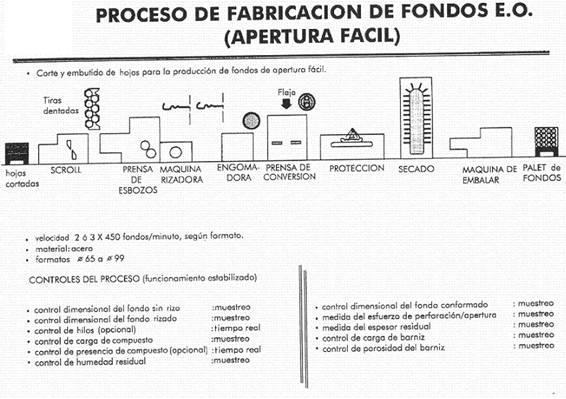 8º.- SEQUENCES OF MANUFACTURE OF THE 3 PIECE BOOTS
It can be divided into a series of stages, all linked in the manufacturing line, according to the following sequence: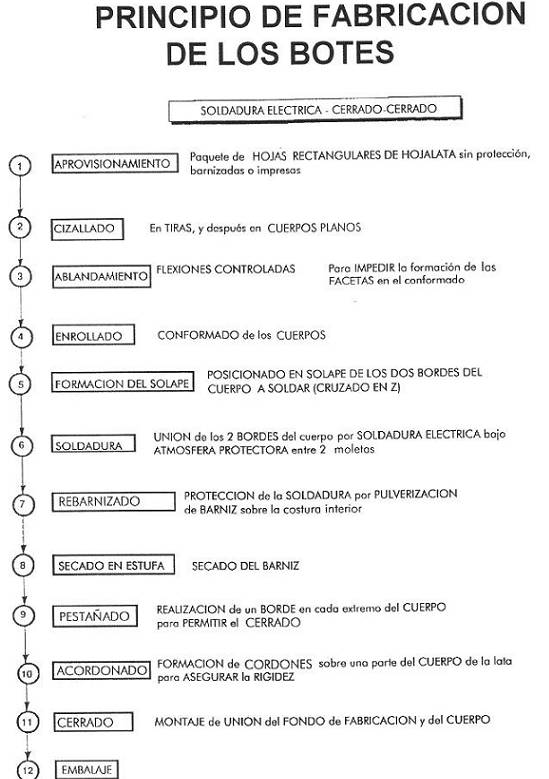 9º.- PROCESS OF MANUFACTURE OF THE TYPE 3 PIECE BOOTS
Line formed by a dozen machines joined together.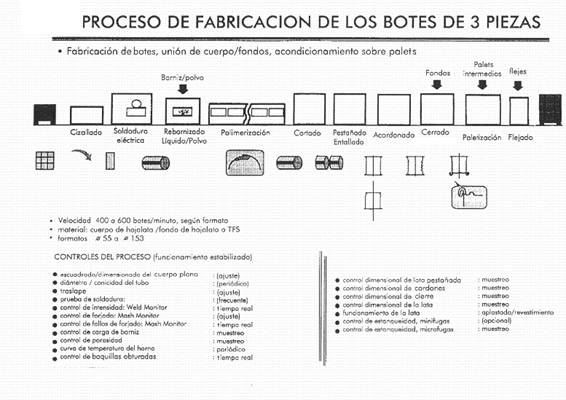 10º.- MANUFACTURING SEQUENCES OF SAUSED BOOTS
The manufacture of the inlaid cans differs radically from the previous ones. It is based on the use of presses.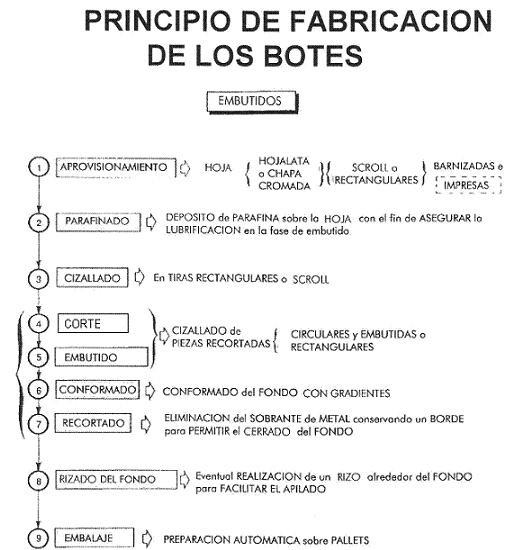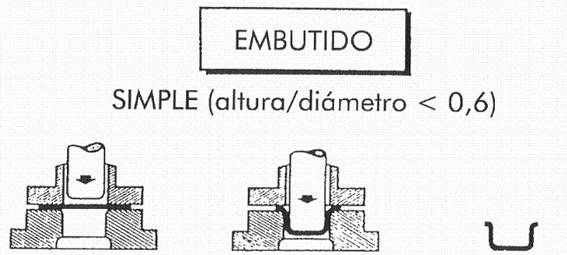 11º.- MANUFACTURING SEQUENCES OF DRIED BOOTS – DRD REIMBURSEMENTS
Developed to obtain high-packings, it is obtained based on several successive embossments.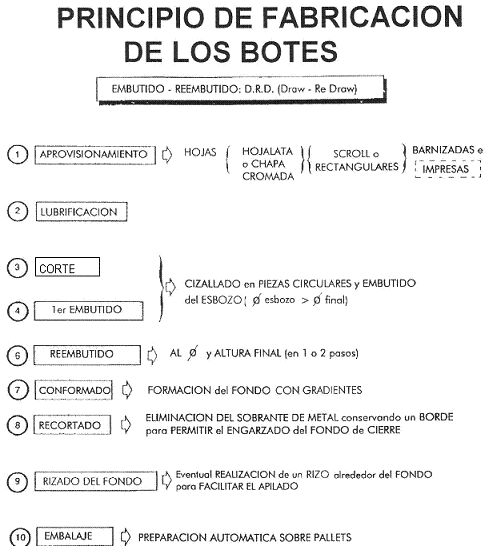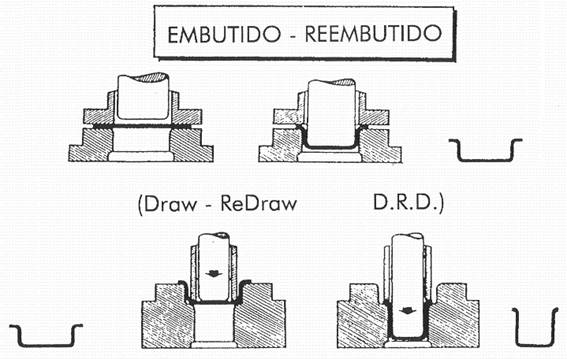 12º.- MANUFACTURING SEQUENCES OF DRAINED AND IRONED SAUCED BOOTS DW I
Technique used to contain products (drinks) always under internal pressure. Use walls of very low thickness.