SUMMARY
A script is shown, which may have a didactic use, which presents the basic ideas that give content to the metal industry.
INDEX
–          1º.- UTILIZATION OF COATED STEELS: THE CONTAINERS
–          2nd.- FUNDAMENTAL FUNCTIONS OF A CONTAINER
–          3rd.- MAIN MATERIALS OF THE CONTAINER
–          4th.- CONTAINERS IN COATED STEELS: CLASSIFICATION AND IDENTIFICATION CRITERIA
–          5th.- PRINCIPLE OF MANUFACTURE OF PACKAGING
1º.- UTILIZATION OF COATED STEELS
It is understood by coated steel, to laminated steel of low thickness, which has been protected on both sides by another metal that safeguards it from external attacks. In the packaging sector two main types are used: tinplate and TFS, and in small quantities the galvanized sheet.
TINPLATE: Tin coated steel
TFS: Chrome coated steel
GALVANIZED PLATE: Steel coated with zinc.
UTILIZATIONS:
MAINLY FOR: PACKAGING as
BOTTLES OF PRESERVES, BEVERAGES, PAINTS …
AEROSOL SPRAYS
DRUMS, BARRELS.
CAPSULES, PLUGS.
FOOD TRAYS
IN ADDITION TO:
PLATES AND TRAYS
TOYS
ADVERTISEMENTS AND ADVERTISING PLATES
2º.- FUNDAMENTAL FUNCTIONS OF A CONTAINER
a) ENSURE AN EFFECTIVE BARRIER BETWEEN PRODUCT AND EXTERNAL AND DURABLE ENVIRONMENT BETWEEN THE CONTENT AND ITS AGGRESSIONS.
o      BARRIER against:
OXYGEN OF THE EXTERIOR AIR (extreme case: vacuum package)
AIR HUMIDITY
MICROORGANISMS
UV LIGHT
o      PHYSICAL AGGRESSIONS
SHOCK (during handling, falls)
STACKING (storage)
PRESSURE (during sterilization)
TEMPERATURE (during sterilization)
o      CHEMICAL AGGRESSIONS
CHEMICAL INTERACTION BETWEEN CONTAINER AND OUTSIDE
CHEMICAL INTERACTION BETWEEN THE CONTENT AND THE CONTAINER
b) ALLOW THE MEETING AND EASY SEPARATION OF THE CONTINENT AND CONTENT
FILL
CLOSURE
EMPTY (separation)
c) SERVE HANDLING AND STORAGE OF THE PRODUCT CONTENT
d) CONSTICONSTITUTE A SUPPORT FOR THE VISUAL PRESENTATION OF THE CONTENT PRODUCT
e) DISAPPEAR AFTER USE
RECYCLING OF RAW MATERIALS
VOLUNTARY OR NATURAL DESTRUCTION
REUSE
f) ALLOW AN EASY, HOMOGENEOUS AND ECONOMIC PRODUCTION OF THE PACKAGE IN ITSELF
3º.- MAIN MATERIALS OF THE CONTAINER
The containers mainly use the following materials for their construction:
COATED STEEL
ALUMINUM
GLASS
PLASTIC
PAPERBOARD
PAPER
WOOD
CLOTH
COMPOSITE
MATERIALS (cardboard-aluminum, paper-aluminum, paper-plastic …)
OTHER AUXILIARY MATERIALS. (inks, varnishes, gums, glues …)
4th.- CONTAINED STEEL PACKAGING: CLASSIFICATION CRITERIA
A.- FOR THE CONTENT
a.- PRESERVES: Sterilized food
b – BEVERAGES: Beer, Colas, Soft drinks, Energy drinks …
c – OTHER FOOD PRODUCTS: Oil, Milk, Syrups, Biscuits, Powdered products.
d – NO FOOD: Cleaning, Phytosanitary, Cosmetics, Pharmaceutical.
e – INDUSTRIAL: Lubricants, Paints, Varnishes, Inks, Greases.
B.- FOR THE NUMBER OF PIECES THAT COMPOSE THEM
a – 3 PIECES b – 2 PIECES c – WITH COMPARTMENTS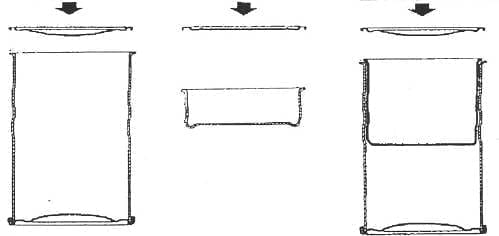 C.- BY THE WAY OF REALIZING THE BODY
a – ENGARGOLADOS

b – ELECTRICALLY SOLDIERS

c – LEAVES

 d – Simple stuffing (height / diameter <0.6)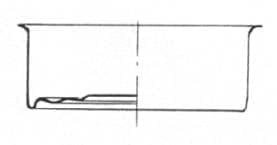 e -REIMBURSED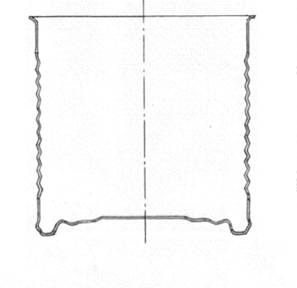 f – BEVERAGE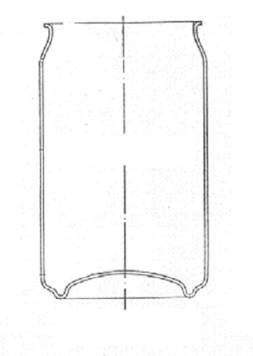 g – BEADING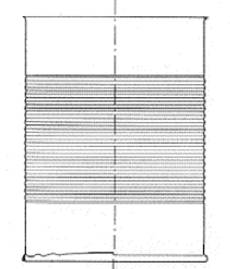 h – (Stackable)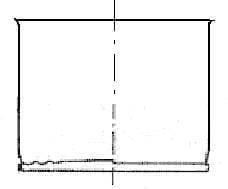 i – EXPANSIONATES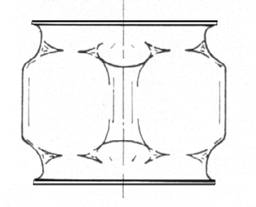 D.- BY THE OPENING MODE
a – (can opener)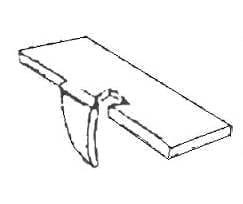 b – INCISIONS IN THE BODY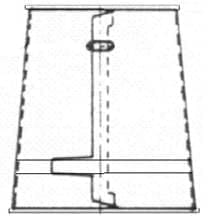 c – EASY PARTIAL OPENING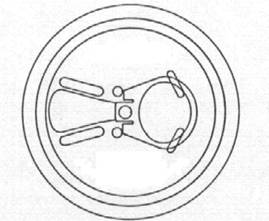 d – EASY TOTAL OPENING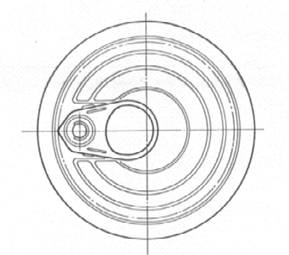 E.- FOR YOUR CAPACITY
1/1 (4/4) 850 cm3
½, 1/3,  1/4, 1/12…
2/1, 3/2, 5/4, 5/1…
F.- FOR YOUR FORM
a – CYLINDRICAL ROUND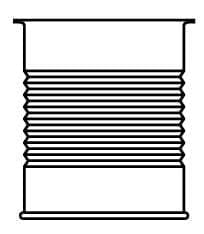 b – TRONCOCÓNICA ROUND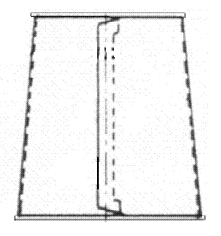 c – RECTANGULAR OR SQUARE:
– PRISMATICS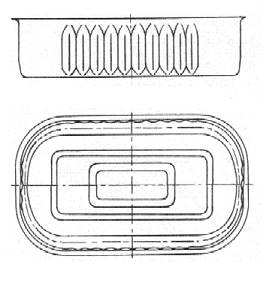 – TRONCOPIRAMIDAL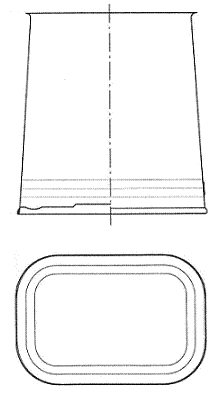 e – OVAL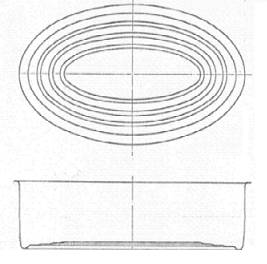 f – OBLONGA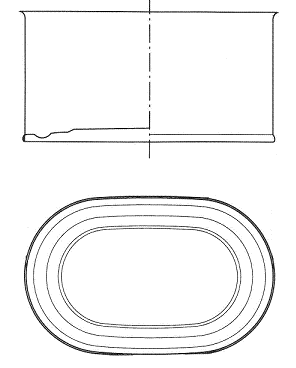 g – TRAPEZOIDAL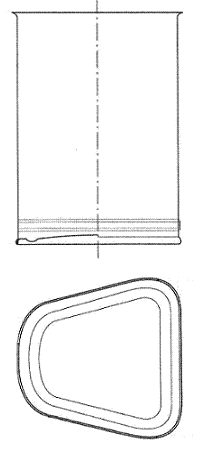 In general, cans that are not round are called " shape"
G.- FOR YOUR HEIGHT
A – LOW
B – STOCKINGS
C – ALTAS
They are used for a given capacity according to their height.
H.-  DIMENSIONS (in mm)
ROUND CANS: nominal diameter of lid X body height
Example: 99 x 118 (1/1 can)
SHAPED CANS: length X width of the lid X height of the body.
Example 116 x 95 x 90.5 (1/1 Jockey Club tin)
5th.- PRINCIPLE OF MANUFACTURE OF PACKAGING
A.- GENERAL SEQUENCE:
B.- SCHEME OF THE PRINTING AND VARNISHING PROCESS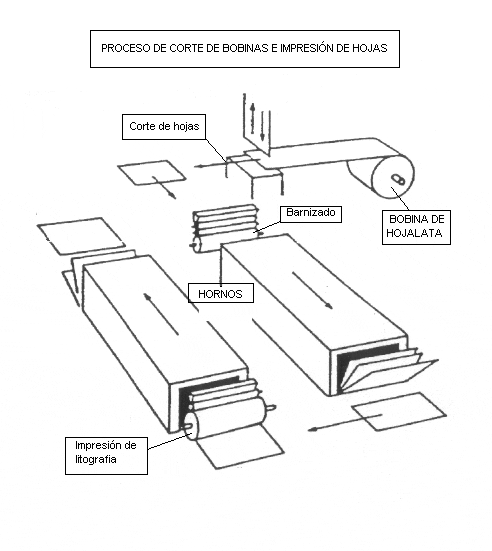 C.- SCHEME OF THE FUND MANUFACTURE PROCESS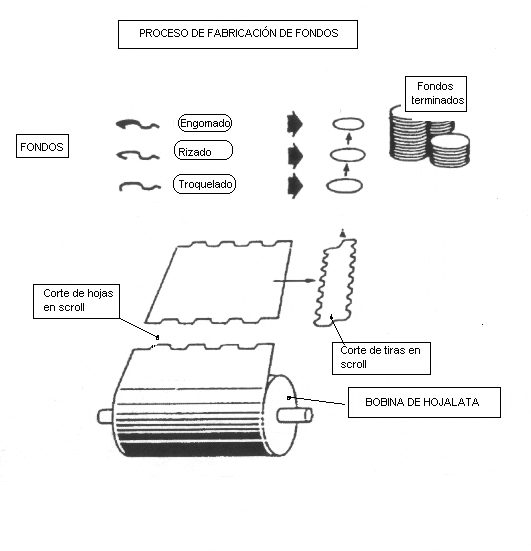 D.- SCHEME OF THE PROCESS OF MANUFACTURING PACKAGES 3 PIECES