MARKET STUDY ON METAL CANS FOR BEVERAGES
Globally, the beverage segment is estimated to dominate the metal food and beverage can market with a 66.8% share, which experts believe will reach US$24.6 billion by 2025. One of the key factors contributing to the growth of the global market for metal cans for the food and beverage industry is the advantages provided by this type of packaging.
A clear example is the high use of aluminum cans in carbonated soft drinks and alcoholic beverages such as beer and wine, which makes the beverage segment dominant in terms of application.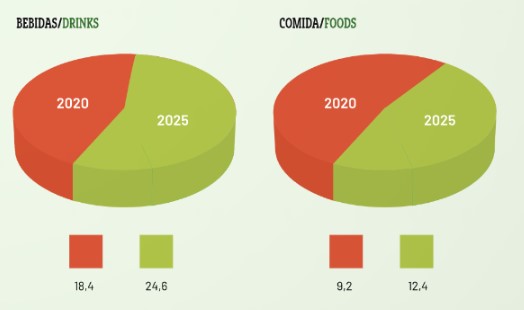 As of 2018, North America continues to dominate the metal food cans market, a trend that will continue in the coming years. One of the main reasons for this leadership responds to the high presence of metal can manufacturers. In 2018, the market size reached $2.44 billion, registering a slight and progressive increase to reach an estimate that will be around $3.54 billion by 2025.
In second place in the ranking is Europe with a turnover of around 2.29 billion dollarsHowever, the European continent is expected to take the lead over North America by exceeding the growth forecast with a percentage of 3.61 billion dollars, representing a harmonious growth of 6.7% in five years, the highest of the continents analyzed.
Asia Pacific is next in importance with an estimated volume of 1.83 billion dollars, increasing by 2.08 billion dollars, which translates into an increase of 6.4%.
Lastly, South America is the continent with the lowest volume at around 0.96% and is the one with the lowest growth compared to its competitors, with a growth forecast of 1.47 billion dollars. Africa and UAE is up from 8.12 billion units in 2018 to $12.37 billion, which translates to a 6.2% share over five years.
Global forecast to 2025 (billions of USD)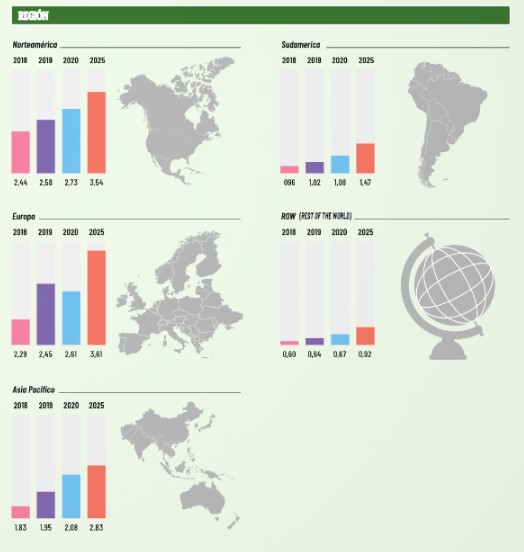 The food cans are made of steel and internally coated with tin in order to reduce the contact of the filler with the steel. In this way, the tin coating reduces the chances of corrosion while helping to maintain the quality of the products. In this regard, the global canned food market has been segmented into five main sub-segments, including: fruit vegetables, takeaway food, pet food, meat and seafood, as well as other food products.
In the case of vegetable fruits, this type of food has become an important part of the human diet in developed countries due to their high purchasing power. Precisely, technological innovations have found an important alternative for the consumption of fruit and vegetables practically all year round. In this case, the volume in 2018 was $1.88 billion while in 2020 that increase reaches $2.14 billion.
In the case of food-to-go, the prepared food market is expected to register significant growth in the coming years, especially if we focus on ready-to-go (RTE) snacks as well as ready-to-serve (RTS) foods. In addition, there is increased demand for salad dressings, sauces, soups and ready-to-go foods. In 2018, the demand for such products reached a volume of $1.71 billion while in three years the demand is estimated at $2.63 billion.
In the case of pet food, it is driving the growth of the metal can market. We are in a current context in which pet nutrition is vital, so we are increasingly working to improve the quality and nutritional value of these canned foods. In this segment, volume in 2018 was $0.36 billion, but growth through 2015 is estimated to reach 5.2%.
Another of the products that has experienced the greatest growth is the demand for packaged meat and seafood, the demand for which has increased. Translated into data, in 2018 this segment moved a volume close to $2.04 billion, but by 2025 this volume is estimated to reach $3.14 billion.
Finally, another product in demand in today's market is bakery and confectionery products packaged in different shapes and sizes of metal cans, such as cookies, chocolates and cookies. In numbers, this translates that in 2018 this segment of food products packaged in cans moved a volume of $2.13 billion, although it is expected to surpass the triple-digit figure in the next three years with $3.12 billion.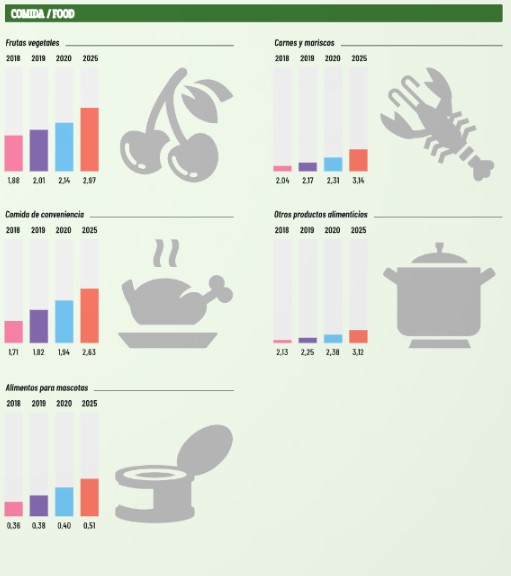 The increase in the consumption of alcoholic beverages has meant a significant increase in relation to the growth of the beverage can market. Precisely in the light of rapidly changing consumer demands, this is forcing can packaging companies to offer cost-effective solutions. Among their many advantages, greater strength and rigid nature allow these containers to be filled at high speeds with negligible product loss.
Metal containers also allow maximum optimization of space during storage and transport due to their stackability. The metal packaging does not break easily and has an inherent strength, due to this the metal container, both empty and full, can be stacked to make maximum use of storage.
In the case of alcoholic beverages, the volume reached by this subsegment accounted for a turnover of close to $6.1 billion in 2018, a growth that has progressively increased in the following years to reach a forecast of $9.5 billion by 2025, an increase of 6.4% in recent years.
In the case of carbonated beverages, in 2018, this subsegment reached a trade volume of US$4.7 billion to reach a record US$7.1 billion by 2025 according to forecasts, which translates into a 6.0% increase over this five-year period.
Finally, energy and sports drinks are also gaining market share, especially among younger consumers. In 2018, volume hovered around $2.4 billion, and for the next two years that figure is estimated to exceed $3.4 billion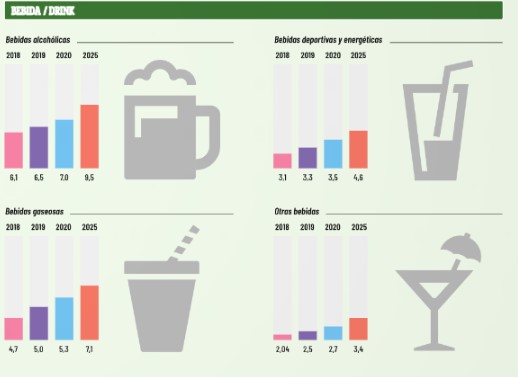 As with the food market, North America also continues to lead the demand for metal cans, a trend that will almost double in the coming years. In data, in 2018, this segment moved a volume of $5.67 billion, but by 2025 it is expected to be $8.38 billion.
In the case of Europe, in 2018 it was $3.93 billion while by 2025 it is estimated to increase in volume close to 5.79 billion units. In the case of Asia Pacific, the volume is US$3.58 billion, a figure that has been increasing slightly until the trend is expected to reach 5.68 billion units over the next few years. Referring to South America, the dollar volume was 2.07 while for 2025 it is 3.24 billion dollars. In the remaining countries, which include the African continent and the United Arab Emirates, that volume drops by half, with $1.05 billion in 2018 although a volume of close to $1.56 billion is expected by 2025.
Conclusions: The cost of metal, which is influenced by raw materials and labor factors, has been stable over the period, thus making metal a more cost-effective material compared to other packaging materials. Therefore, the benefits and low price of metal packaging offer ample opportunities and the market for metal cans for food and beverages may grow further during the forecast period. The beverage segment held the largest market share in 2017, accounting for almost 76% of the market. In this segment, the end user is expected to dominate the global market during the forecast period.