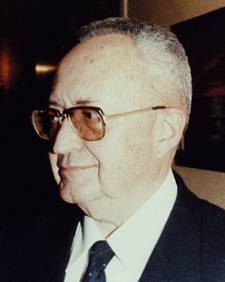 This Spanish engineer was born in Mexico in 1927. From Asturias, his father had emigrated to that country claimed by a relative who had business in it. He studied in Mexico, later moving to the United States, where he worked in Boulder Dam (Colorado) and General Motors, specializing in "quality". He returned to Mexico, occupying first in public works, and later in the Tuboplast company, being later hired by Envases Generales Continental, filiar of the American Continental Can. He made several trips to Spain and in one of them he got married.
It played an important role in the aforementioned company when it signed an economic and technical agreement with the Spanish company Olmesa, later Envases Carnaud.
As a result of this agreement, he came to Spain definitively in 1961 to take over the technical management of the new company. With him he brought a great knowledge and experience of a market more developed than the Spanish at that time. Man of a strong personality and solid training both professional and human, exemplary father of a very large family – nine children-, was undoubtedly the most qualified technician that existed in this period in our metal industry.
From his arrival, he decided to introduce in Spain, one after another, the products of greatest commercial interest in North America and the most modern techniques for their manufacture. So, from his hand came:
1º-In the year 1962, the manufacture for the first time in Spain of the "twist-off" covers for glass jars. The first line was set up in Linares (Jaén) in that year.
2º- The widespread use of electrolytic tinplate since 1963. Until then, the "coke" type, with high tin consumption and high price, was commonly used. At that time, the national steel industry had serious difficulties in introducing this new quality into the market. The support of Tomas Somohano was decisive for its introduction in a satisfactory manner.
3º- Palletization of containers. Until 1965 the normal packaging in the packaging factories were cardboard boxes and paper bags. In this year, direct palletization began, specifically for condensed milk containers in the Linares and Logroño factories of the aforementioned company.
4º- "Three pieces" beverage containers. In the factory in Valencia and during the year 1967, the first line in Spain for the manufacture of beverage cans was launched. Initially, the "three pieces" type was manufactured, with a welded seam and a tin-lead seam, with a flat lid and a perforated can opener opening.
5th – Easy opening covers. Soon the beverage containers demanded the use of these covers. Somohano implanted the most modern American technique in the Vigo factory at the end of this decade. Then came developments for total openness including non-round forms, some of them specific to Spain.
6º- Tinplate DR. Its policy of reducing costs and collaboration with the steel industry facilitated the development of facilities for the manufacture of this new type of tinplate – as well as that of others (for easy opening, "two pieces" …) – which soon had general acceptance .
7º- Two pieces packaging, also for drinks, which moved after three pieces. In 1980, the first factory in Spain was established in Agoncillo (Logroño), even before in other important nations such as France. His progress was truly spectacular.
8º- Water-based varnishes, … and a very long etcetera that would make this biographical review very long.
He counted among his friends the greatest experts worldwide and he was of course one of them. He was known and respected in the best international forums, even more than at a national level. In a word, if we had to choose the person who did the most to raise the technological level of the metal industry in the second half of the 20th century in Spain, it would undoubtedly be Tomas Somohano. It could be argued that these developments were already there and that sooner or later they would eventually arrive in our country, which is true. But the truth is that they arrived pushed by it, even before the market demanded them, putting them at their disposal as excellent weapons to keep it at a point of great dynamism. He also adapted all these developments to the special characteristics of the Spanish market (products, formats, presentations …) and in many cases improved their performance.
He died in Madrid in full professional activity in 1996 at 69 years of age.